This past weekend a group of anti gay protestors flew from Kansas into Northern California to stage several protests. Among the sites they protested were the GLAAD Association awards ceremony, the Tracy High School graduation ceremony, and several Churches during Sunday morning services.
CLICK HERE to see a news report on the protests.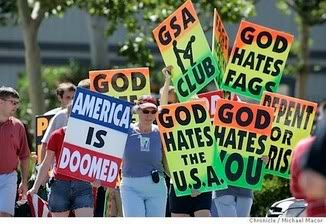 They came from the First Redneck Church of the Self Righteous…
Oh no, wait, I might have gotten that wrong, oh yeah, here it is; they came from the Westboro Baptist Church, my bad. Anyway, they shouted slogans like, "God Hates Fags", and, "Thank God for 9/11". One of the men from the group shouted loudly, "AIDS is God's judgment, you are doomed, America is doomed, GOD HATES YOU, GOD HATES YOU!!!!"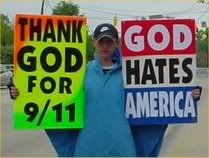 Members of Westboro Baptist stood outside Tracy First Presbyterian Church and shouted "God hates fags and God hates First Presbyterian Church" as the choir practiced "Oh Sing to the Lord" and "Gentle Shepherd" before service. Then the group from Kansas moved on to Grace Brethren Church. Randy, a member of Grace Brethren, was trying to describe to his children what was going on outside their church when the protesters started shouting at him. With his children standing by his side, Randy was told by members of Westboro Baptist that he was a child molester, then they accused him (in graphic detail) of a sexual act involving a cucumber.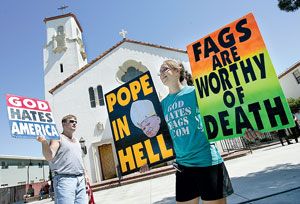 After a short stay at Grace Brethren the small group from Westboro headed across town to St. Bernard's Catholic Church. They shouted "The Pope is in Hell!!" at the top of their lungs, holding up a picture of Pope John Paul II. As worshipers headed for morning mass the protestors yelled at them, "They rape little boys here, why do you hate your children?!?!?"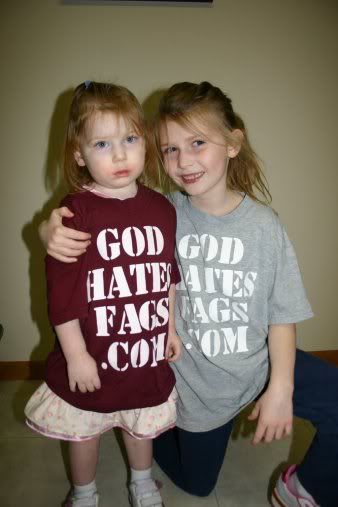 At one of their protests they threw American flags on the ground and wiped their feet on them. Three young men were passing by and yelled at them saying, "How can you trample our flag while American soldiers are dying in Iraq and Afghanistan?" A young lady with a sign in her left hand that read "God Hates You", and in her right hand, "Thank God for 9/11" replied, "I'm glad they're being killed over there, God hates this country. I thank God for those planes crashed into those buildings on 9/11. Not enough died."
To the more outspoken members of Westboro Baptist Church please stop talking for a minute and listen…
Go home. Please.

Please stop spreading your gospel of hatred. What you are doing is helping no one. When you spew hatred you define christianity to the world. You are telling the world that christianity is about hatred, not love, peace, faith, grace, hope and forgiveness.

You are the reason my stomach turns, and I break out in a cold sweat when a stranger asks me if I'm a Christian.


Please stop.


"This is how much God loved the world: He gave his Son, his one and only Son. And this is why: so that no one need be destroyed; by believing in him, anyone can have a whole and lasting life. God didn't go to all the trouble of sending his Son merely to point an accusing finger, telling the world how bad it was. He came to help, to put the world right again."
John 3.16-17 the message