6.14.2006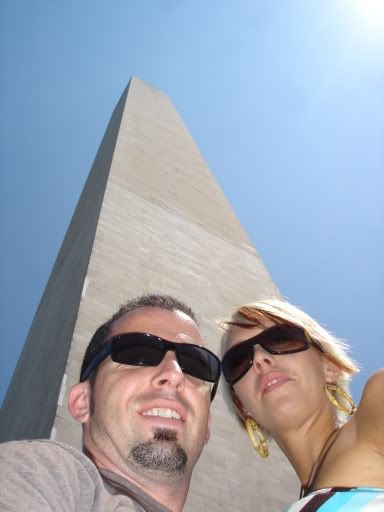 Katie and I got a chance to spend a week in the nation's capitol. It was also our 8th anniversary! We got there at about midnight the day before Memorial Day. Most of these pictures were taken on Memorial day.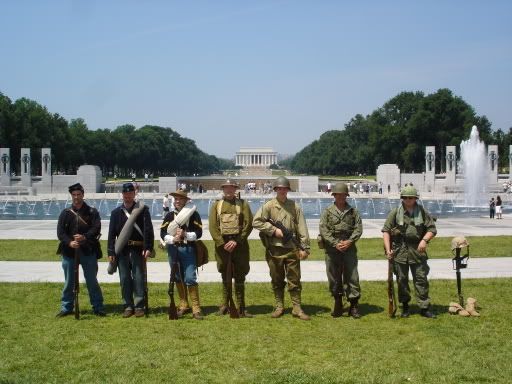 There were lots of festivities going on for the holiday. These guys were all dressed up in wartime uniforms from previous wars.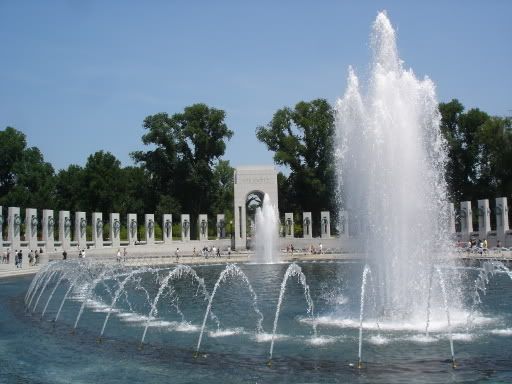 It's been about 16 years since I've been in DC so the World War II memorial was new to me. It was pretty amazing. The fountains were beautiful and left a nice cool mist floating about. It was over 90 degrees each day we were there and the humidity was horrible so it was a nice treat to walk by the fountains.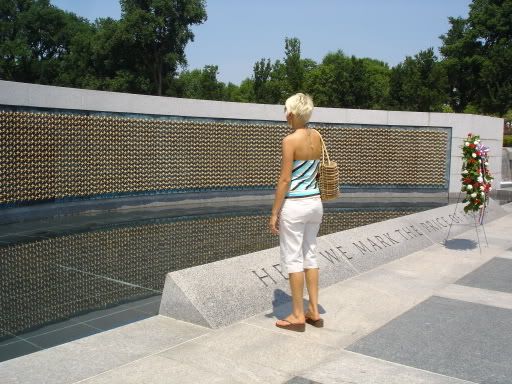 This wall had over 4,000 golden stars on it, 1 star for every 100 men killed in World War II. It was very sobering to think of all the lives lost.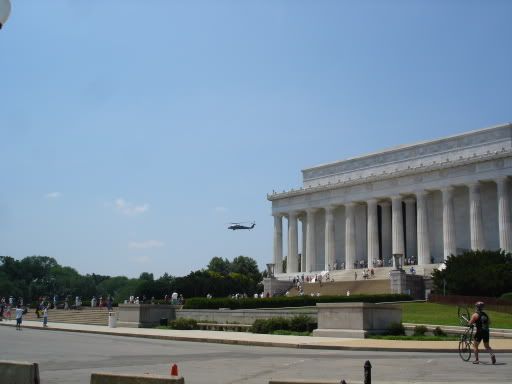 After the WWII memorial we walked over to the Lincoln memorial. As we were walking up to it we looked up to see Marine One, the President's helicopter flying by. The President was on his way over the Potomac to Arlington National Cemetery for a ceremony at the Tomb of the unknown soldier.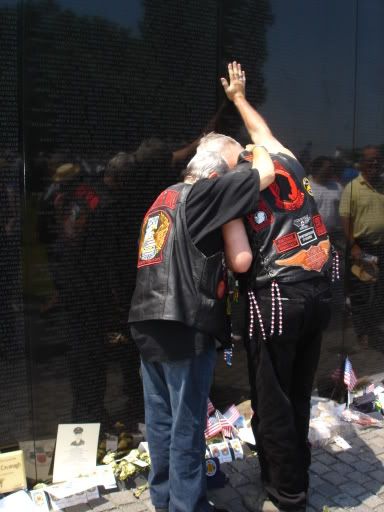 There were hundreds of Vietnam Vets in town for Memorial Day. The streets shook with the sound of their Harley Davidsons. They were all over the Vietnam Vets memorial. It was moving to see these men looking up to see the names of their friends etched in stone.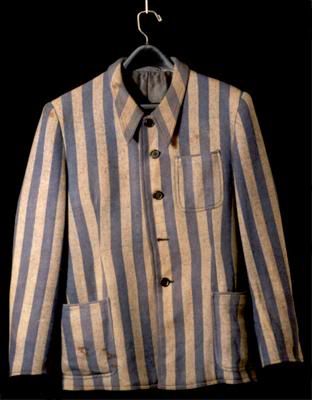 A few days later we went back to the National Mall to see the museums, and historic museums. We went to the Holocaust Memorial Museum. It was a very emotional experience. I've seen pictures of the Holocaust, and footage from Auschwitz, so I thought I was prepared for what I was about to see.
But there was one thing that caught me off guard. One of the first things that you see when you walk into the exhibit is coats that were taken off of the backs of the Jewish prisoners before they were lead into the gas chambers.
At about eye level were two children's coats that would have fit my sons perfectly.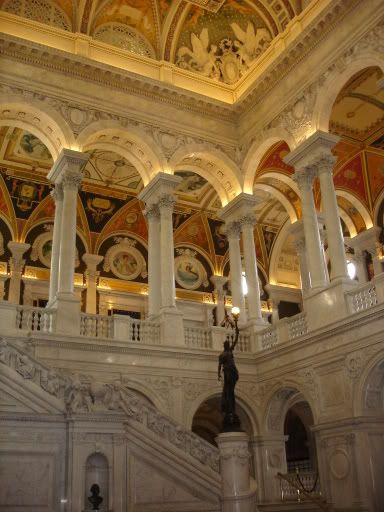 We wandered around the Library of Congress for hours. It is in itself a magnificent work of art.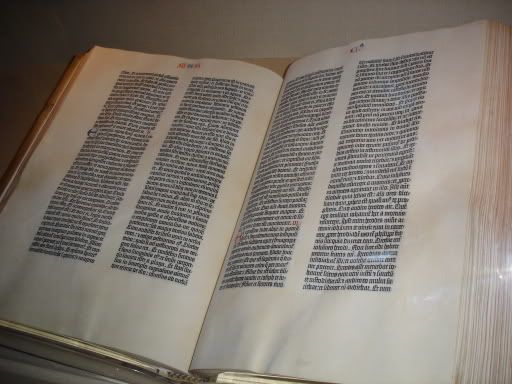 One of the most treasured articles in the Library of Congress is one of the few remaining Gutenberg Bibles. It was really amazing to see it in person. I didn't realize it but I wasn't supposed to take pictures of it. Sorry Officer...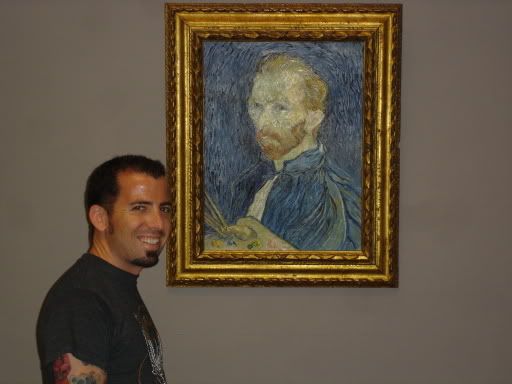 We spent the large part of our last day in DC at the National Gallery of Art. Katie and I really enjoy fine art and this was a really good museum. Here I am with the "Self Portrait" by Van Gogh, my personal favorite. It's so cool to look up close at these beautiful works of art that you've only seen in a book. You could see every single brush stroke. I was literally shaking.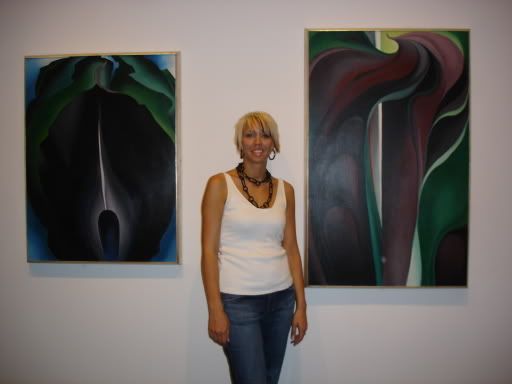 Katie really liked these paintings by Georgia O'Keefe.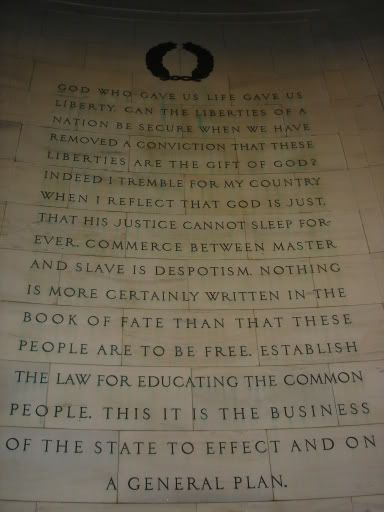 After spending all day in the National Gallery of Art and a great dinner at Capitol City Brewing Katie and I decided to walk the whole National Mall area after dark. If you're going to go to DC you've really got to see the Monuments at night!
This was an inscription at the Jefferson Memorial. It's kind of hard to see in the picture, but the first half of the inscription is pretty amazing. It reads:
"God who gave us life gave us liberty. Can the liberties of a nation be secure when we have removed a conviction that these liberties are a gift of God? Indeed I tremble for my country when I reflect that God is just, that His justice cannot sleep forever."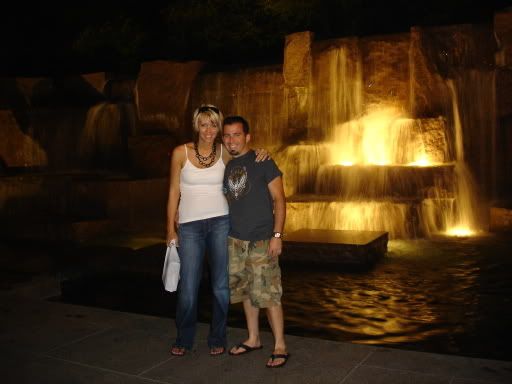 This is at the FDR memorial. Katie and I had never even heard of it. Apparently it's a fairly new one and most of the people we've talked to haven't heard of it either. It was a really cool memorial. These fountains were all over the place, along with many depression era FDR quotes.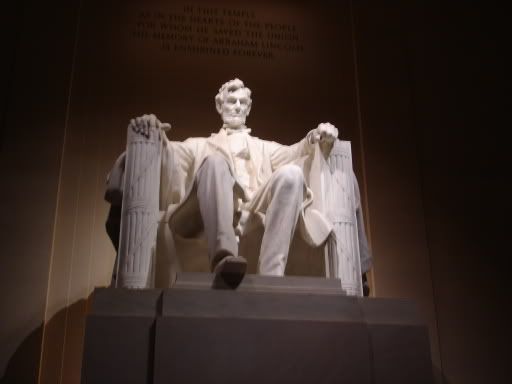 Honest Abe, quite an imposing figure, even more imposing at night. He looks amazing all lit up like that. Plus, he's HUGE!!!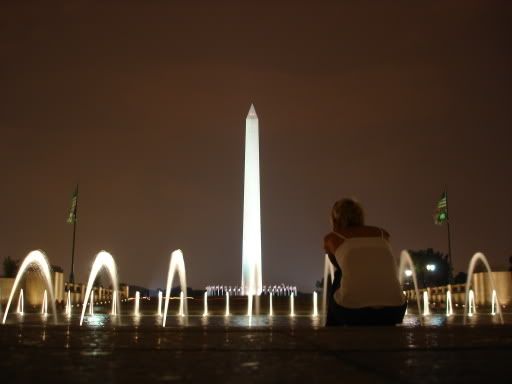 This is my favorite picture form our trip. It's almost midnight and Katie is sitting at the World War II memorial looking past the fountains to the Washington Monument. That was a really beautiful moment.

We had a great trip and it was very refreshing, but it's nice to be back home and to tuck our babies in at night.

Posted by

jimmy
at 9:10 PM
7 comments:


6.10.2006
I've been reading this book by
Brian McLaren
about the ways that Jesus communicated his message. He contends that Jesus spoke in many parables, and hidden messages, but he always spoke in the language of his peers. The chapter that I'm in now is titled "the Language of the Kingdom". One of the points that Brian makes is that Jesus said, "The kingdom of God is like..." Brian suggests that if Jesus were speaking to us today he may not even use the term "kingdom". Today you hardly ever see a King that actually rules over his land. In fact when we see a King most of the time that Kingship is symbolic. The power is held by others in government, the royal family is really there as a matter of tradition. It gives the peasants the warm fuzzies. Do you really think that's what Jesus had in mind? Didn't think so. Again Jesus spoke the language of the people.
Brian suggest that instead of the term "Kingdom" of God we might use other terms interchangably. For example, the "Dream" of God, the "Revolution" of God, the "Mission" of God, the "Party" of God, the "Network" of God, and the "Dance" of God.
Side note; I get most of my reading done on the elliptical at the gym. By the time I got done reading the section I'm about to share with you I was unable to hold back tears. It was pretty embarrassing. When the dude with the tattoos and spiky hair starts boo hoo-ing on the elliptical, EVERYONE notices. They stare, they whisper, and they point their fingers. I thought the pointing was a bit overboard, but that's just me.
Here is an excerpt of the section that talks about the "Party" of God;
"The party of God. Jesus often compared the kingdom to par­ties, feasts, and banquets. Today we could say that God is invit­ing people to leave their gang fights and come to a party, to leave their workaholism and rat race and come to a party, to leave their loneliness and isolation and join the party, to leave their exclu­sive parties (political ones, for example, which win elections by dividing electorates) and join one inclusive party of a different sort, to stop fighting or complaining or hating or competing and instead start partying and celebrating the goodness and love of God.
Just today I met some folks from a church in Minneapolis who demonstrate this metaphor in a dramatic and fun way. A group of them gather on a street corner in a poor part of town. They take overturned trash cans, old pots and pans, and an assortment of drums and other percussion instruments and start creating a loud, joyful rhythm. Soon a crowd gathers. It's im­possible not to smile when you hear the joyful music being made mostly from junk. Homeless folk and people from the neighbor­hood start dancing. Then the church members start distributing food-not in the somber style of a soup kitchen, but in the joy­ful atmosphere of a street party. They don't have to say a word, really, they're demonstrating their message-that the kingdom of God is like a street party to which everybody is invited.
My friend Tony Campolo tells a true story that also serves as a great parable in this regard. He was in another time zone and couldn't sleep, so well after midnight he wandered down to a doughnut shop where, it turned out, local hookers also came at the end of a night of turning tricks. There, he overheard a con­versation between two of them. One, named Agnes, said, "You know what? Tomorrow's my birthday. I'm gonna be thirty-nine." Her friend snapped back, "So what d'ya want from me? A birth­day party? Huh? You want me to get a cake and sing happy birthday to you?" The first woman replied, "Aw, come on, why do you have to be so mean? Why do you have to put me down? I'm just sayin' it's my birthday. I don't want anything from you. I mean, why should I have a birthday party? I've never had a birth­day party in my whole life. Why should I have one now?"
When they left, Tony got an idea. He asked the shop owner if Agnes came in every night, and when he replied in the affir­mative, Tony invited him into a surprise party conspiracy. The shop owner's wife even got involved. Together they arranged for a cake, candles, and typical party decorations for Agnes, who was, to Tony, a complete stranger. The next night when she came in, they shouted, "Surprise!"-and Agnes couldn't believe her eyes. The doughnut shop patrons sang, and she began to cry so hard she could barely blow out the candles. When the time came to cut the cake, she asked if they'd mind if she didn't cut it, if she could bring it home-just to keep it for a while and savor the moment. So she left, carrying her cake like a treasure.
Tony led the guests in a prayer for Agnes, after which the shop owner told Tony he didn't realize Tony was a preacher. He asked what kind of church Tony came from, and Tony replied, "I belong to a church that throws birthday parties for prostitutes at 3:30 in the morning." The shop owner couldn't believe him. "No you don't. There ain't no church like that. If there was, I'd join it. Yep, I'd join a church like that." Sadly, there are too few churches like that, but if more of us understand the secret message of Jesus, there will be lots more."
CLICK HERE to go to Brian McLaren's website
CLICK HERE to purchase "the Secret Message of Jesus"
Posted by

jimmy
at 12:20 AM
4 comments: