I'm SO sick, and it's totally raining here. Katie's at work so I'm supposed to be watching the boys but I've been on the couch all day. Obadiah is wearing the same clothes he had on yesterday, peanut butter smeared all over his face, and he has ripped every single page out of one of his coloring books, one at a time. Malachi is wearing a diaper. That's it. I'm a bad dad. I know I'm supposed to be watching them today but I feel like crap so I've called on a dear friend of our to watch the boys for me… SPONGEBOB!!! I know, I know, the TV will turn their tender young brains to mush, right now I really don't care.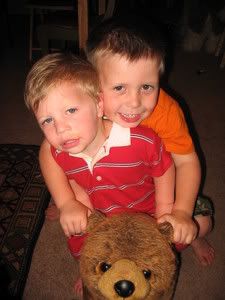 My boys are so sweet to me. Obadiah came in to ask me a question, and he noticed that I wasn't feeling good, so without hesitation he leaned over and kissed me on the cheek, ran his fingers through my hair and said, "pray Jesus, make my daddy feel better, pray Jesus, amen." How cool is that?
Malachi came over to the couch and gave me a kiss, hugged me long and hard and sang to me. He's only one and a half so he doesn't know many words so he mostly just sings vowels… "AAAaaa, OOoooo, EEEEeee," it's a beautiful song.