The death toll in the 7.6 magnitude earthquake that struck Pakistan has soared to over 30,000 people. Officials say that the average age in the hardest hit areas is 18 years old. They say an entire generation has been destroyed.
The earthquake was so strong that it could be felt across all of South Asia. The United Nations has warned that 2.5 million people are in need of shelter following the earthquake.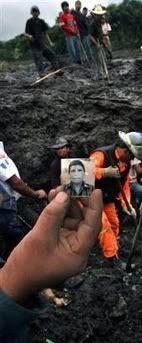 Guatemala's death toll from torrential rains last week associated with Hurricane Stan are projected to reach 1,000 people.
Mudslides a half mile wide and up to twenty feet deep have swallowed entire villages. Overwhelmed officials have declared some areas mass graves and have stopped recovery efforts.
"Panabaj will no longer exist, we are asking that it be declared a cemetery. We are tired, we no longer know where to dig."
WHAT IS GOING ON?!?!? Tsunami, Hurricane Katrina, Hurricane Rita, Hurricane Stan, earthquakes, mudslides… Is it me, or is this stuff happening with a lot more frequency than in the past?
Is it God's judgment? Global warming? Happenstance?
If I were the apocalyptic type I'd be gathering up my "left behind" books and heading for the bomb shelter.