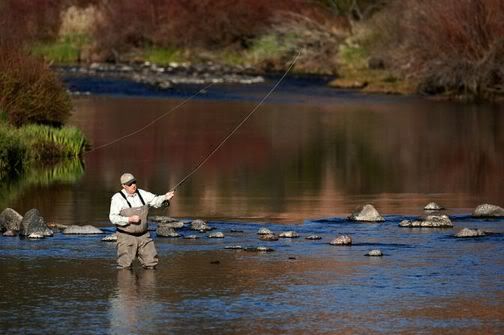 I read this article and wanted to share it with you. It's got some great points about the technique that Jesus told his followers to use when sharing the gospel.
Hunter or Angler?
When Jesus called a crusty fisherman by the name of Peter to become a disciple, he promised that he would become a "fisher of men." Throughout my Christian life, I have heard that same analogy used to describe the process of leading people to a saving knowledge of Jesus Christ.
Sometime ago, however, I realized that when presenting the Gospel to many people, I approached it more like I was hunting than fishing. This, in spite of the fact that nowhere does the Bible say to be "hunters of men."
You see, my approach was to "load my gospel gun" lay in wait or sneak up on someone and then blast away in a rather rapid-fire way, expecting them to understand their need, comprehend what God had done for them, trust me enough to believe that I wasn't crazy, respond to the Holy Spirit's invitation and believe on Christ as Lord and Savior in a matter of minutes. Indeed much of my emphasis was on locating my "prey" delivering my "message" and bagging my conquest. It really was quite foolish, if not unbiblical.
Growing up in the Midwest as I did, hunting and fishing were common pastimes. I've always been more of a fisherman than a hunter – though I've done both. Hunting is really quite a violent pursuit that involves ambush and power. The object is to locate your target and blast away.
Fishing however, requires much more finesse. One scouts the prime locations, hopes for good weather conditions, checks the wind, selects bait and equipment thoughtfully, prepares the hook carefully and then often waits patiently. There's a lot of strategy and care in the process. Some days you'll go all day without a nibble. Other days you bring home a full stringer. Some fish bite and leave. Some chomp and stay. It's really quite different than hunting.
Now I realize that soul-winning and hunting and fishing analogies have their limitations, and I don't want to stretch a comparison to a ridiculous extent. At the same time, I became convicted upon thinking of my own approach to telling others about Christ that I should be more of a fisherman and less of a hunter.
I wonder how many times I frightened people away from the Gospel message because I was too brash, too impatient, too self-absorbed and in the end, I missed my chance to be God's agent in drawing a person to Himself.
I'm thinking of several times when had I been gentler, kinder, prepared the "bait" more carefully that I'm sure I could have been a more effective ambassador for the Gospel.
By Dan Burrell
In the Trinity Tribune