Have you ever thought that you could do no wrong and then you fell on your face? This picture made me laugh so hard. You know this guy just thought he was TOO COOL!! He had the camera lined up, his friends all in the boat, thinking as soon as these pictures came out and word got out about what a stud he was he'd have to beat the chicks away with a stick.
Then this happened…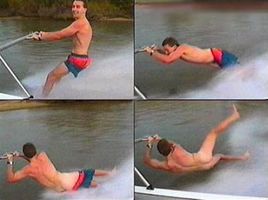 I had a really embarrassing moment early on in my music career that I thought of instantly when I saw this picture. I was learning more and more about playing and singing and was getting ready for my first big show. It was for a youth group rally. I was so stoked to play and I was especially excited since this was my first chance to sing lead and unleash my considerable talent on the world's ears!! I have to say that I did a pretty killer job. The 400-500 kid's in attendance gave uproarious applause to let me know how truly great I was.
I slowly walked across the stage at the end of the night, waving that rock n' roll wave, and nodding my head as if to say, "that's right, I do rock, don't I?!?!?" Then, with ALL EYES ON ME, I tripped on a microphone cable and fell down 5 or 6 stairs to the floor of the auditorium. The laughter was almost as loud as the applause.
Have you ever had one of those moments?