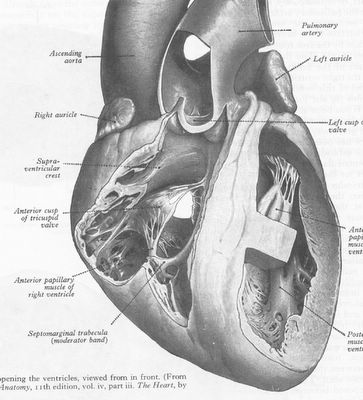 This is the original post. Check out the comment from Jay (Kaelyn's Daddy) for the update.
Original post date 1-30-05
I spent the afternoon at UCSF children's hospital today.
My friends Jay and Amy have a precious daughter named Kaelyn. She was born with several heart defects. The doctors said that the opportune time to perform the procedure to correct these deficiencies was when Kaelyn reached six months of age. Kaelyn got to six months last week. On Monday she had pre-op, on Tuesday they opened her tiny little chest and performed a four and a half hour open heart surgery. She has had a slight complication meaning that she needs to stay there for another week. All things considered she is doing well.
It was weird walking through the halls of the hospital and seeing all the tiny babies that were so fragile and needed such close attention just to keep them alive. The baby in the bed next to Kaelyn couldn't have weighed more than five or six pounds. I asked about him. "Oh he's three months old. He's doing really well. They think he might get to go home tomorrow." That's amazing to me. This kid was barely past
half
the size of either of my kid's birth weight and he was three months old!!!
I heard lots of stories of other kids that were receiving critical care. There was one baby that had been delivered a few days ago with only half of a heart. Jay and Amy said all the doctors went crazy and ran to the operating room. We don't know how it turned out.
Stuff like that freaks out a father. Makes me sad, makes me wish there was something I could do to help. All I can do is pray I guess.
"You made all the delicate, inner parts of my body and knit me together in my mother's womb. Thank you for making me so complex! Your workmanship is marvelous, and how well I know it. You watched me as I was being formed in utter seclusion, as I was woven together in the dark of the womb. You saw me before I was born. Every day of my life was recorded in your book. Every moment was laid out before a single day had passed. How precious are your thoughts about me, O God! They are innumerable! I can't even count them; they outnumber the grains of sand! And when I wake up in the morning, you are still with me!"

Psalms 139.13-18
God was there when Kaelyn was knit together in her mother's womb. He didn't just miss that one valve, or overlook that hole in her heart did he? He knew what was going on right?
Why does stuff like this happen?