Yesterday I went to a funeral for my boyhood Sunday school teacher Mrs. Hayes. She had been teaching Sunday school for a long, long time. She was even my dad's Sunday school teacher. If we were still attending that church she would have watched my sons in the nursery. Anyway, the service was nice, lots of funny stories and fond remembrances.
Upon walking into the funeral home I noticed that the music sounded familiar. Then I realized they were playing my CD.
Let me tell you about the CD. I used to have a keyboard at home and I would spend my personal worship time just playing the piano for hours at a time. When my wife was pregnant with our first son she asked me to record a CD for her to sooth her nerves while she was in labor. The next time I sat down at the keyboard, I hit record and played for about an hour straight. The music on that CD was the first thing that my sons heard upon entering this world and that brings joy to my heart! The midwives that were at the birth requested copies of the CD and since then my music has been heard at hundreds of births. I've gone to weddings and doctor's offices and heard my music. I have no idea how many people have heard this music. Turns out Mrs. Hayes was listening to the CD when she passed. And now the music was playing at the funeral.
It's amazing to me that this simple act of personal worship has become a blessing to these people. I'm a musician. To me, I was just doing what I do. So as I was sitting in the funeral home I started thinking about people just "doing what they do" and how that can turn into a blessing to others. I looked at the beautiful woodwork around the altar and saw how it made the atmosphere so nice in the chapel, and how that must have comforted so many people over the years. Then I looked at the wrought iron kneeling benches, and thought of the craftsman that made these, and how many people have grieved, and remembered loved ones while kneeling on them. Then I looked at the flowers and thought of a person who loves nothing more than being on their knees in the dirt surrounded by the beauty of God's creation, and all the thought and effort they put into making a beautiful arrangement that would comfort these people today.
These people were just doing what they do, but I like to think that they were doing it as an act of personal worship unto the Lord.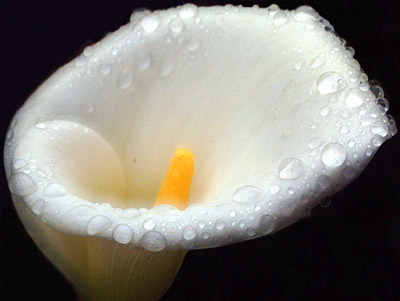 I learned something about Mrs. Hayes yesterday. I never knew that she had a son of her own. Apparently she lost her son when he was a young boy. She was, of course devastated. She was unable to have any children of her own after that but she loved kids, and she spent the rest of life serving children in Sunday school. It occurs to me that serving children was Mrs. Hayes personal act of worship. She didn't do it for the fanfare, not to be recognized, she was just "doing what she does".
At the end of the service my grandmother who is a dear friend of Mrs. Hayes asked for anyone that had been in her Sunday school class to stand up. Almost half of those in attendance stood to their feet. And those were only the ones that still live in town and were able to make the service in the middle of a work day. I know that thousands of children have gone through her Sunday school classes since she started teaching in the early fifties. What an incredible legacy.
Isn't it amazing that when we "do what we do" as a simple act of personal worship it can have such a profound impact on so many?