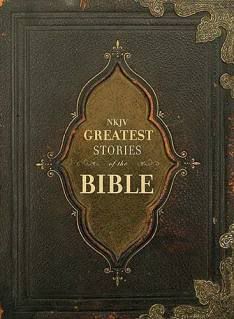 I've been looking through the "NKJV Greatest Stories of the Bible" for the past few weeks. It's a compilation of the great stories of the Bible in storybook format. It's got all the great stories you remember from Sunday school in an easy to navigate format.
I kind of dig the storybook feel. In my home we like to read through the stories in the Bible with our boys before they go to bed. Having everything laid out in like that is really nice. However, I think the NKJV version is still a little old school as far as readability. I prefer the Message version for it's every-day English ease of use, but the organization of this version is really great.
It's a toss up, not sure which version to grab at story time...