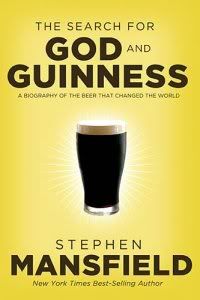 I just finished reading
THE SEARCH FOR GOD AND GUINNESS, a biography of the beer that changed the world
and I gotta say, it was pretty great. The first chapter alone is worth the price of admission! This book is full of beer history, Irish history, and the long tradition of the Guinness family and it's undying commitment to social justice and care for the working class of Dublin. The first chapter is a thorough history of beer, the brewing process and the way that religion and beer have been inextricably linked throughout the years. The rest of the book tells the story of the Guinness family; it's business genius, it's commitment to God, and to the needy.
The Guinness family has been classified in three groups, The brewing Guinness', the banking Guinness' and the Guinness' for God. The author, Stephen Mansfield, makes a point of saying that he is hesitant to use the phrase "Guinness' for God" though, because the implication is that the other family members were not "for God". He writes:
"They did not see themselves as secular, but rather as called. They did not see themselves as apart from Christian ministry, but rather as in the Christian ministry of industry and trade. They did not think of their brewing work as a menial way to pay the bills, hoping that they might compensate for such worldliness by giving occasional service to the church. No, they had absorbed the great Reformation ideal that everything a man did was to be done for God and that his calling and his vocation were usually the same thing. They understood that this transformed workbenches into altars and the labor of a mans hands into liturgies pleasing to God."


CLICK HERE to purchase The Search for God and Guinness