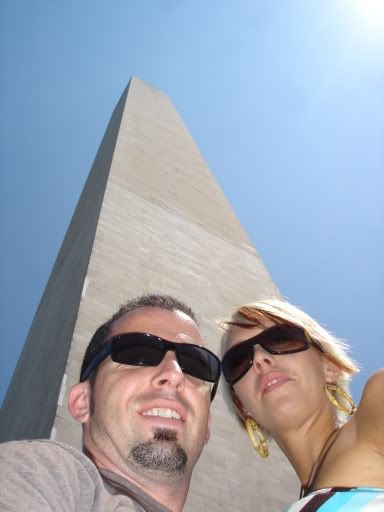 Katie and I got a chance to spend a week in the nation's capitol. It was also our 8th anniversary! We got there at about midnight the day before Memorial Day. Most of these pictures were taken on Memorial day.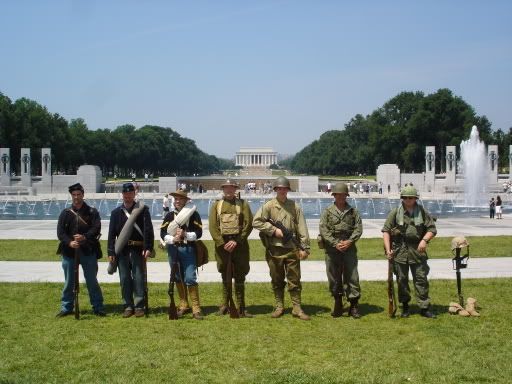 There were lots of festivities going on for the holiday. These guys were all dressed up in wartime uniforms from previous wars.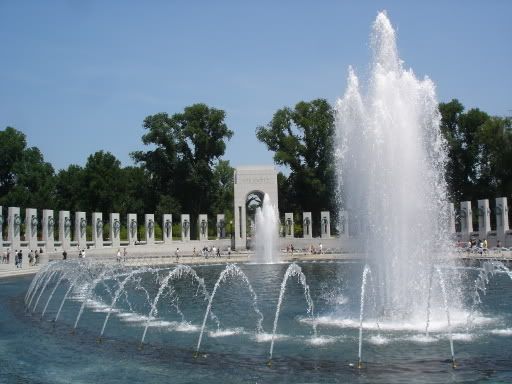 It's been about 16 years since I've been in DC so the World War II memorial was new to me. It was pretty amazing. The fountains were beautiful and left a nice cool mist floating about. It was over 90 degrees each day we were there and the humidity was horrible so it was a nice treat to walk by the fountains.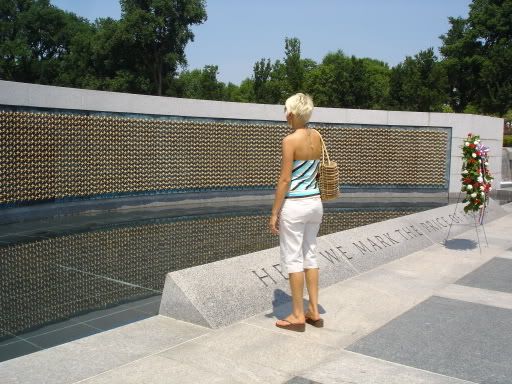 This wall had over 4,000 golden stars on it, 1 star for every 100 men killed in World War II. It was very sobering to think of all the lives lost.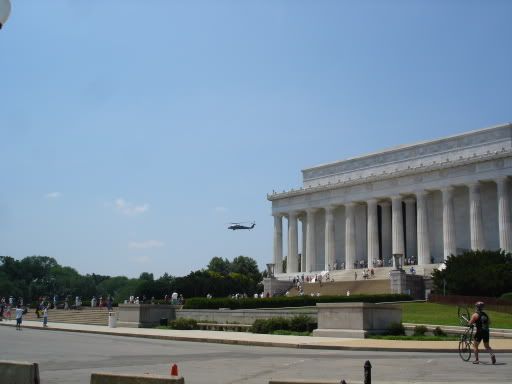 After the WWII memorial we walked over to the Lincoln memorial. As we were walking up to it we looked up to see Marine One, the President's helicopter flying by. The President was on his way over the Potomac to Arlington National Cemetery for a ceremony at the Tomb of the unknown soldier.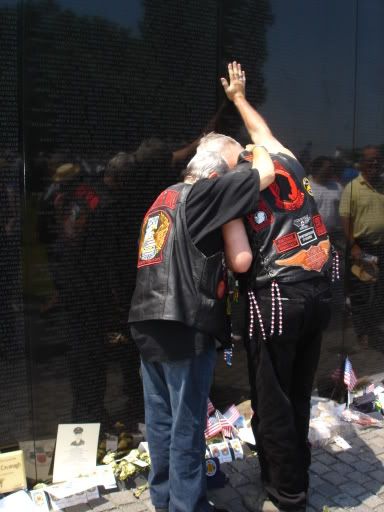 There were hundreds of Vietnam Vets in town for Memorial Day. The streets shook with the sound of their Harley Davidsons. They were all over the Vietnam Vets memorial. It was moving to see these men looking up to see the names of their friends etched in stone.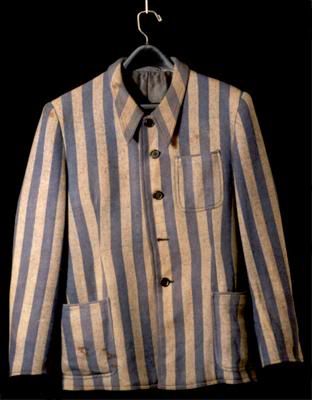 A few days later we went back to the National Mall to see the museums, and historic museums. We went to the Holocaust Memorial Museum. It was a very emotional experience. I've seen pictures of the Holocaust, and footage from Auschwitz, so I thought I was prepared for what I was about to see.
But there was one thing that caught me off guard. One of the first things that you see when you walk into the exhibit is coats that were taken off of the backs of the Jewish prisoners before they were lead into the gas chambers.
At about eye level were two children's coats that would have fit my sons perfectly.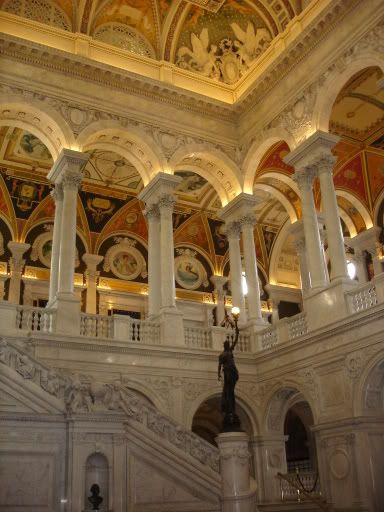 We wandered around the Library of Congress for hours. It is in itself a magnificent work of art.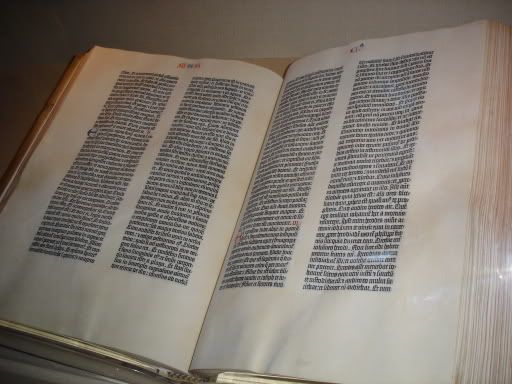 One of the most treasured articles in the Library of Congress is one of the few remaining Gutenberg Bibles. It was really amazing to see it in person. I didn't realize it but I wasn't supposed to take pictures of it. Sorry Officer...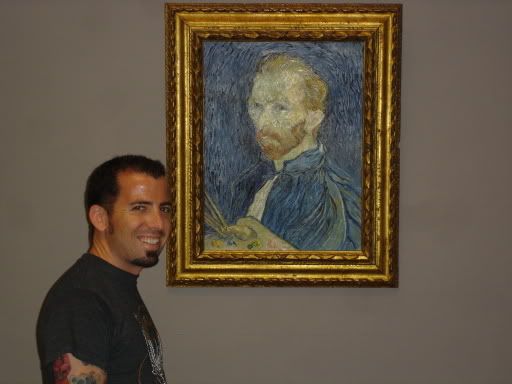 We spent the large part of our last day in DC at the National Gallery of Art. Katie and I really enjoy fine art and this was a really good museum. Here I am with the "Self Portrait" by Van Gogh, my personal favorite. It's so cool to look up close at these beautiful works of art that you've only seen in a book. You could see every single brush stroke. I was literally shaking.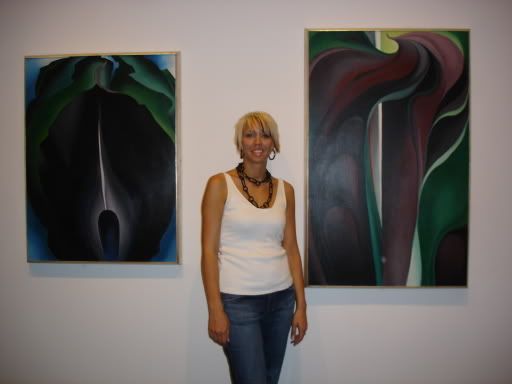 Katie really liked these paintings by Georgia O'Keefe.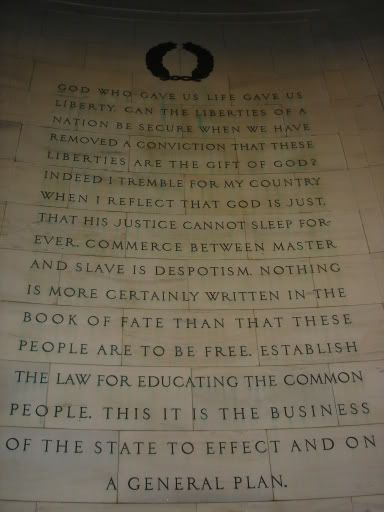 After spending all day in the National Gallery of Art and a great dinner at Capitol City Brewing Katie and I decided to walk the whole National Mall area after dark. If you're going to go to DC you've really got to see the Monuments at night!
This was an inscription at the Jefferson Memorial. It's kind of hard to see in the picture, but the first half of the inscription is pretty amazing. It reads:
"God who gave us life gave us liberty. Can the liberties of a nation be secure when we have removed a conviction that these liberties are a gift of God? Indeed I tremble for my country when I reflect that God is just, that His justice cannot sleep forever."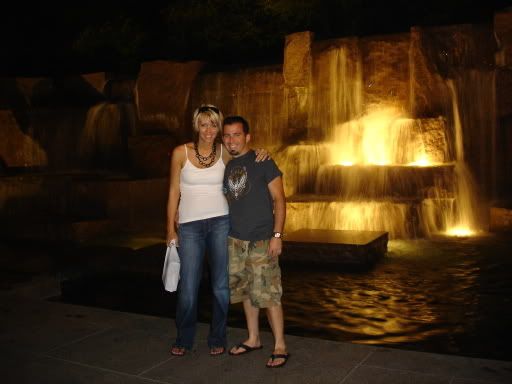 This is at the FDR memorial. Katie and I had never even heard of it. Apparently it's a fairly new one and most of the people we've talked to haven't heard of it either. It was a really cool memorial. These fountains were all over the place, along with many depression era FDR quotes.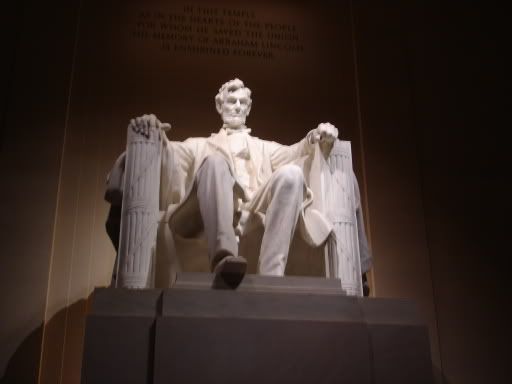 Honest Abe, quite an imposing figure, even more imposing at night. He looks amazing all lit up like that. Plus, he's HUGE!!!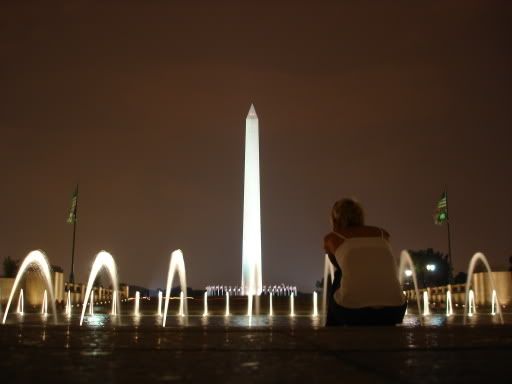 This is my favorite picture form our trip. It's almost midnight and Katie is sitting at the World War II memorial looking past the fountains to the Washington Monument. That was a really beautiful moment.

We had a great trip and it was very refreshing, but it's nice to be back home and to tuck our babies in at night.