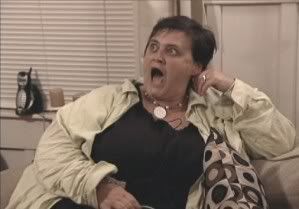 Meet Margaret Perrin.
Margaret was a part of the television show "Trading Spouses" where the mothers from two diverse families trade places for one week while the cameras roll tape. Margaret is from Louisiana, and is a church going, Bible believing, Revelations quoting, "God warrior". She spent a week with a new age family as the new age mom spent a week with Margaret's family. What a wonderful opportunity for Margaret to be an example of Christlike grace, love, and acceptance. Unfortunately Margaret couldn't get past the "dark sided" ways of the new age family she landed with. She didn't really make too many friends in the family. It did however appear that she reinforced many preconceived notions about Christians being close minded, narrow, unloving, selfish and unaccepting.
Is that really what Christians are about? Why would anyone want to be a part of
that
family?
CLICK HERE to see the clip from "Trading Spouses"
CLICK HERE to hear Margaret's new single from her upcoming album
**NEW**

CLICK HERE to see the Margaret Perrin Bobblehead figurine!